American Bulldog Rescue
 American Bulldogs - Rescue Organizations American Bulldogs can be surrendered by their owners or found as stray dogs in the streets. These dogs are brought to shelters with hope they can get a second chance. People who love the breed and care for the well being of each rescue dog make up volunteer groups. They are dedicated to finding new homes for the abandoned animals. In shelters and rescue centers the dogs are provided with necessary food and medical care.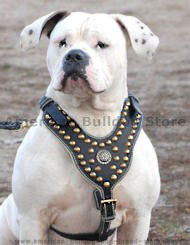 The aim of all rescue organizations is to find responsible, stable and loving homes for rescue American Bulldogs as soon as possible. The fact is that a rescue American Bulldog is definitely not a dog for everyone. Dogs are placed according to the type of home and family that can be the most suitable for their needs. Most rescue dogs, irrespective of the breed, have health, emotional, social, or behavioral issues. Many rescue American Bulldogs are dog aggressive and some are not recommended to be placed in homes with young children.
If you are not inclined to have to deal with at least one of these issues, a rescue dog is not the right choice for you. Time devoted to obedience training and lots of patience, care and love are the indispensable components of the success with rescue American Bulldogs.
Operation K9 Rescue, Inc. is a 501(c)(3) Non-Profit Education/Legislation/Rescue organization. Operation K9 Rescue is a rescue organization whose objective is to rescue, rehabilitate and rehome the abused, neglected and abandoned American Bulldogs, Rare Mastiffs and Bulldog breeds. The Rare Mastiffs include such breeds as the Neapolitan Mastiff, Tosa Inu, Cane Corso, Dogue De Bordeaux, Dogo Argentino, South African Boerboel, Tibetan Mastiff, Canary Dog and the Fila Brasileiro. As the only Tosa (Japanese Mastiff) rescue in the United States and the West Coast representative for American Bulldog rescue, we take pride in finding loving forever homes for the dogs in our program. We aim to educate the public and dog owners as to the care, training and requirements of owning one of these breeds. Operation K9 Rescue believes that through education, we are able to reduce the number of dogs euthanized or surrendered to shelters each year due to curable behavior problems.
In effect, improving the quality of life for dogs and their families. Established in 2001, we have rescued and found homes for hundreds of dogs with volunteer and community support. We are a 100% volunteer-based organization that offers a variety of public education programs, such as our "Safety First Program" (dog safety program for children and adults), our breed-specific education events held a couple times a month, and our free weekly obedience training for our volunteers and rescue owners who wish to participate. We also work closely with legislators to educate and fight (BSL) Breed Specific Legislation, and the biggest portion of our effort is to rescue our beloved breeds.
American Bulldogs dog harnesses, dog muuzles dog collars large sizes click here

---